Started 29.January.2013!
To learn more details about the individual animals, select the appropriate page.
Because of restrictions, sorting only direct on the Thailand Page.
Thailand Event Limited Decorations
Decoration
Size
Price
XP Award
Unlock
Thailand Flag
1 x 1
Free Tuesday Treat /
5.000
50
Available for purchase in the Market during the Outback event
Fruit Basket
2 x 2
89.999
50
Available for purchase within goal "Lopburi Monkey Festival!" ONLY
Thailand Event Week Goals
Description
Completion / Reward

To complete:
The Hairy Nosed Otter is the rarest otter on Earth! These mustachioed otters are really beautiful despite a little facial hair!
Get a pair of beautiful Hairy Nosed Otters!

Completion:
Now visitors can see these rare otters!
15 + 550

To complete:
The city of Lopburi is the home of thousands of monkeys! Each year residents celebrate the Lopburi Monkey festival where they give food to their monkey neighbors!
Get a pair of Lopburi Monkeys to celebrate the festival!

Get a Fruit Basket to feed the Monkey!


Completion:
Chow Down!
7 + 450

To complete:
Announce the arrival of the animals Of Thailand with a pair of regal Thai Rhinos! For a Limited Time the first Rhino is 50% Off!
Get two Thai Rhinos, the first is 50% Off for a Limited Time!
Completion:
Leading the way!
15 + 500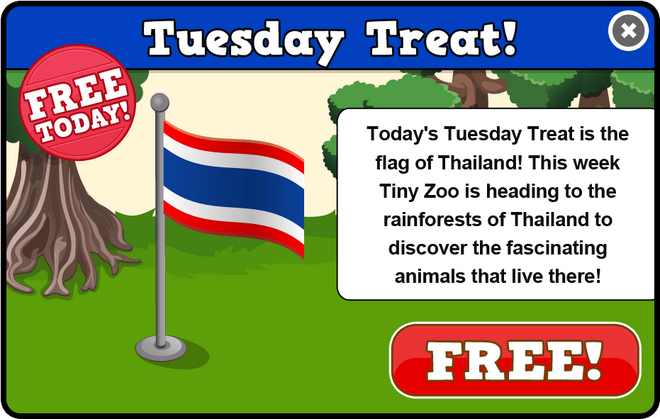 Community content is available under
CC-BY-SA
unless otherwise noted.