Monkey King
Details
Lvl req.
21
Type
India
Area
Shop / Animal
Cost
99 / 99
Gain Veteran/
10.600
Gain 09.2011/
10.600
XP
1.060
Every
15 hours
Breeding / Animal
Parent1
--
Parent2
--
Cost
99/99
in
14 hours
Instant
12/12
Reward for completing a Family
Family XP
1.060
Family Gain
1
Crossbreeding / Animal
Partner1
--
Result1
--
X-Cost1
--
X-in1
--
X-Instant1
--
———————————————————————————
Partner2
--
Result2
--
X-Cost2
--
X-in2
--
X-Instant2
--
Collections
Collections
--
The Monkey King is a part of the India themed collection.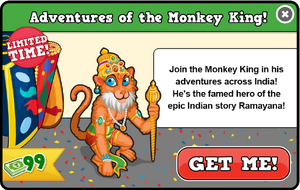 Sun Wukong (simplified Chinese: 孙悟空; traditional Chinese: 孫悟空; pinyin: Sūn Wùkōng), also known as the Monkey King, is a main character in the classical Chinese epic novel Journey to the West (Chinese: 西遊記; pinyin: Xīyóujì) written by Wu Cheng'en. In the novel, he is a monkey born from a stone who acquires supernatural powers through Taoist practices. After rebelling against heaven and being imprisoned under a mountain by the Buddha, he later accompanies the monk Xuanzang on a journey to retrieve Buddhist sutras from India.
Sun Wukong possesses an immense amount of strength; he is able to lift his 13,500 jīn (8,100 kg or 17,881 lbs) staff with ease. He is also superbly fast, able to travel 108,000 li (54,000 kilometers or 33,554 mi) in one somersault. Sun knows 72 transformations, which allows him to transform into various animals and objects; he has trouble, however, transforming into other people, because he is unable to complete the transformation of his tail. He is a skilled fighter, capable of holding his own against the best generals of heaven. Each of his hairs possesses magical properties, and is capable of transforming either into a clone of the Monkey King himself, or various weapons, animals, and other objects. He also knows spells that can command wind, part water, conjure protective circles against demons, and freeze humans, demons, and gods alike.
One of the most enduring Chinese literary characters, Sun Wukong has a varied background and colorful cultural history. For example, Sun Wukong's is considered by some American, Chinese, and Indian scholars to be influenced by both the Hindu deity Hanuman from the Ramayana and elements of Chinese folklore.
Source: wikipedia.org