Indian Leopard
Details
Lvl req.
21
Type
India
Area
Shop / Animal
Cost
99 / 99
Gain Veteran/
14.250
Gain 09.2011/
14.250
XP
1.425
Every
19 hours
Breeding / Animal
Parent1
--
Parent2
--
Cost
99/99
in
22 hours
Instant
18/18
Reward for completing a Family
Family XP
1.425
Family Gain
1
Crossbreeding / Animal
Partner1
--
Result1
--
X-Cost1
--
X-in1
--
X-Instant1
--
———————————————————————————
Partner2
--
Result2
--
X-Cost2
--
X-in2
--
X-Instant2
--
Collections
Collections
--
The Indian Leopard is a part of the India themed collection.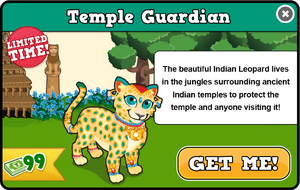 The Indian leopard (Panthera pardus fusca) is a leopard subspecies widely distributed on the Indian subcontinent and classified as Near Threatened by IUCN since 2008. The species Panthera pardus may soon qualify for the Vulnerable status due to habitat loss and fragmentation, heavy poaching for the illegal trade of skins and body parts in Asia, and persecution due to conflict situations. They are becoming increasingly rare outside protected areas. The trend of the population is decreasing.
The Indian leopard is one of the five big cats found in India, apart from Asiatic Lion, Bengal Tiger, Snow Leopard and Clouded Leopard.
Leopards grow to typically between 4.25-6.25ft in body length and 60kg in weight. Females usually weigh 40kg. In 1794, Friedrich Albrecht Anton Meyer wrote the first description of Felis fusca, in which he gave account of a panther-like cat from Bengal of about 85.5 cm (33.7 in), with strong legs and a long well-formed tail, head as big as a panther's, broad muzzle, short ears and small, yellowish grey eyes, light grey ocular bulbs; black at first sight, but on closer examination dark brown with circular darker coloured spots, tinged pale red underneath.

Source: wikipedia.org