For anyone who wants FREE zoo bucks:

If you add a recruiter to your game you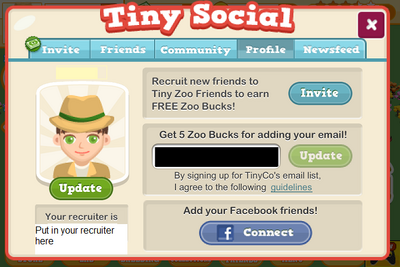 will get 10 ZOO bucks for free.
How to do this:
Tap on "friends" in your game
Tap on "profile" in the tiny social screen
Put one of the following recruiters in:

Dyloka
FarmerDad
julienszoo
shivay
Sanlacha1
bluelover13
Lifesavorz
schnauzer3
Scorpio 278
firecubes
jondoe2003
jakewestlund
droozzooz
didimiki
Jake1975
yfdgdfg
S2H safari
CaduArle
ssisterslmn
janoxmom
rakelsagu
drewbaxtar
zzuperzoo
joshanatior
Betty Zoo
richbarber
lpsx
lpspets
megawombat
zoodude
Twinklicious
ltinyzoo
SBandRB
etth
synchro5
kelly3163
OwenCutter
Paradisezoo9
ws0122
tinydragonn
TD98
arturek
mermaidfrog
Miga008
ChrisXcom
Adding new names only on the bottom of the list. Do NOT delete other people's names.
Adding as a friend does NOT give you free zoo bucks. (but we will accept)
Once you've added a recruiter, you immediately receive 10 FREE zoo bucks.
You can't add any more recruits when you have one.
So you can only have 1 recruiter per user but you can have more than 1 recruit.
You don't have to put in a recruiter when you start your account you can wait until you are ready to put one.
ALSO IF YOU LOOK AT THE IMAGE YOU WILL SEE ADD YOUR EMAIL FOR 5 FREE ZOO BUCKS IT IS VALID AND SIGNS YOU UP TO TINYCO NEWSLETTER