Started 18.June.2013!
To learn more details about the individual animals, select the appropriate page.
Because of restrictions, sorting only direct on the Camping Page.
Camping Event Limited Decorations
Decoration
Size
Price
XP Award
Unlock
Campfire
1 x 1
Free Tuesday Treat / 7.500
50
Available for purchase in the Market during the Camping event!
Camping Week Goals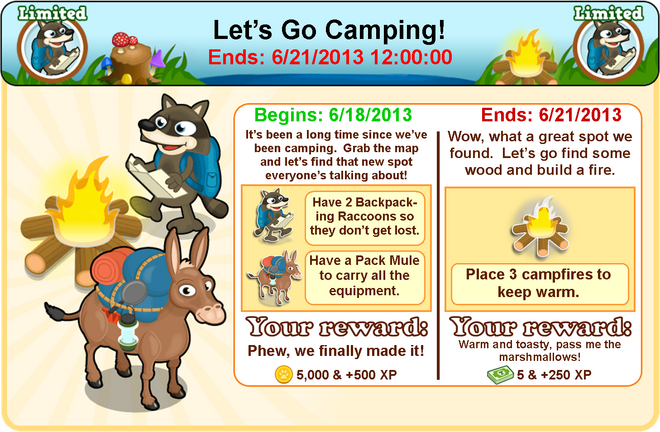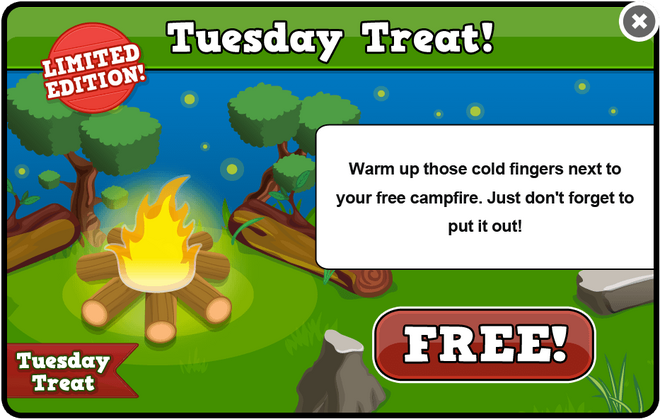 Added:
Updated: Epic Goal
Added: Fishing Porcupine
Updated: Areas
Added: Hungry Bear, S'more Squirrel
Updated: Areas
Added: Canoe Skunk, Ranger Fairy
Updated: Areas, Tiny Zoo Fairies
Added: Marshmallow Fox, Pink Hippo
19. June 2013 Camping, Booster Packs

Added: Boot Scorpion, Forest Dragon, Forest Fairy
Updated: Areas, Tiny Zoo Fairies
Added: Backpacking Raccoon, Pack Mule
Updated: Areas, Goals, First Free Animals