Animal Details
Level Unlocked
1
Type(s)
Cost of Animal
99
Cost to Complete Family
396
Area
Payout

15.380
30.760
50.754
70.748
2.100
4.200
6.300
8.400
Bonded Payout
92.679
Collects every
22 Hours
Reward for Completing Family
1 & 2.100
Breeding
Cost to Breed
99
Breeds in
1 Day
Instant Breed
0 / 0 / 27 / 27
Bonding
Cost to Bond
99
Bonds in
1 Day
Instant Bond
27
Animation
Static
Animation
Stands on hind legs and flexes its muscles.

Crossbreeding

The Akita is not a crossbred animal or a crossbreeding parent and must be purchased from the Tiny Zoo Store.
Additional Pictures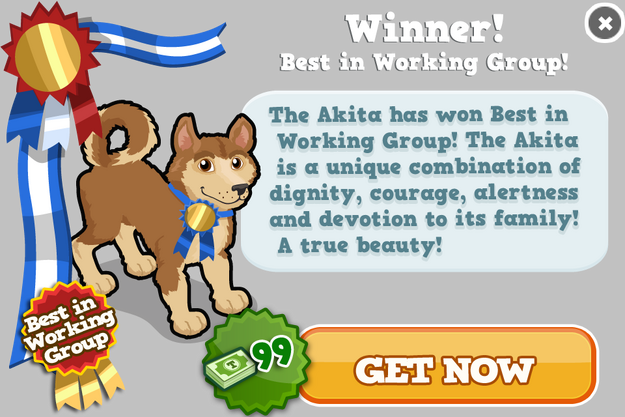 The Akita is a large spitz breed of dog originating from the mountainous northern regions of Japan. It is a strong, independent and dominant breed, commonly aloof with strangers but affectionate with family members. As a breed, the Akita is generally hardy, however, they have been known to suffer from various genetic conditions and be sensitive to certain drugs.
Community content is available under
CC-BY-SA
unless otherwise noted.